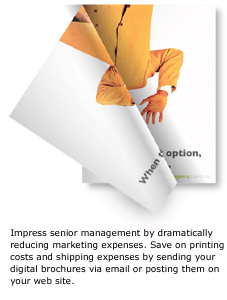 Enjoy the full Benefits of eBrochures
Our eBrochures from scratch process gives you access to the full set of features that have made advancis eBrochures some of the world's most advanced and effective digital documents.
So, wether you need a simple marketing piece or an advanced database-driven online / offline, multimedia document that evolves around your prospects' preferences (yes, we specialize in those too), you can now get exactly what you want. These are not mass-produced digital documents. Just your digital brochures done right.
And as you might have infered, no project is too complex for us. Even if you organization is small, we can help you as well.
Highest legibility on any device
Self-adjusting interface as unique as each reader
No Flash. No outdated technology
Advanced search engine with in-page results
Meet Dashboard
Touch AND motion-based navigation
Takes full advantage of web browsers' Reader feature both on the desktop and on mobile devices
Enhanced social features including ability to share elements within a page





Search Engine Optimization (SEO) and SEO+
The whole picture … and page
Apps for iOS, Android, Mac and Windows




Print wirelessly from mobiles and tablets
True mobile brochures. Not just "mobile-friendly"