09/04/07 - Dallas, Texas, USA - advancis announced today the introduction of a new Reader Response Card (RRC) component for online publications such as online magazines and online newspapers.
After content, advertisers are the most important factor defining the success of online publications. The Reader Respond Card (RRC) component responds to today's demands for real results by delivering leads to advertisers, not just clicks. Because clicks tend to be anonymous (unless someone buys right after clicking on an online ad), advertisers can't develop the relationship they need to turn the audience of an online publication into customers.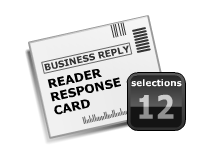 Except in a few rare cases, a visitor from a publisher's site will leave the advertiser's site without buying right away and without identifying herself. And this means that the "lead" disappears. The RRC component allows publishers to deliver solid leads to advertisers, leads they can develop. Instead of a series of clicks, they get each period a list of leads complete with name, addresses, and contact information. The same valuable information they got from print publications, now available online.

The RRC component allows readers to interact directly with the ads featured on the pages of digital publications in a way that has never been done before. When ready, readers simply submit the completed card to the publisher in one click. The publisher then collects and forwards the information by email to advertisers who can then put long- and short-term programs into place to transform the leads into customers.
Stated Claudie Clot, CEO of advancis, "the new Reader Response Card changes how readers interact with online advertising and enhances the type and value of information advertisers will get from their online ad program. On one hand, interacting with online advertisements will feel more natural to the 'average' web user who may not always be comfortable with advanced web features. On the other hand, advertisers will get real leads, not just 'passing' visitors who slip through the pages of their web sites. And this creates a win-win situation for publishers."
The component is exclusive to advancis. Patent-pending.
Availability | The new digital brochure component is offered via advancis.com and the advancis advertising agency network. advancis.agency, agence.advancis, agenzia.advancis and advancis.agentur are part of the advancis network of advertising agencies which spans Germany, France, Italy , the UK and the US. Since 1999, advancis has made its mark by helping large companies and companies with premium brands achieve above-average results on the Web without putting their brands and eBrands at risk.

Note to editors
For further information, contact the advancis marketing department at:
(US)
(EU)

or online at http://advancis.com/Digital_brochure/