ReadyLive delivers a new dimension to your company's Internet-based activities with unparalleled flexibility and ease of use. There are no special programming language to learn and use. Novice and experts users alike will be able to add powerful push technology to their web sites in no time.

Plus, you have complete control over the content you push to your audience; no special tools are needed to develop the content. ReadyLive can push content created with virtually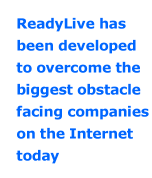 every web design tool; in fact, if you are able to show it in a web browser, chances are you will be able to push it to your audience.
ReadyLive has been developed to overcome the biggest obstacle facing companies on the Internet today: the growing number of web sites competing for their prospects' attention. There are so many web sites that it is impossible for people to visit the sites they are interested in as regularly as they would like. As a result, companies that do not have large advertising and marketing budgets are isolated as traffic is diverted to the sites of well-known companies and industry leaders.

ReadyLive can give your company an edge by pushing your web-based content directly to your prospects every time they use their computers. Pushing content with ReadyLive surpasses online advertising programs as your audience is exposed to your message whether they visit your web site or not. All at a fraction of the cost of placing ad banners on other web sites. ReadyLive can easily be integrated with your current web site to complement your web site activities. In effect, you will even be able to push your web site content. Imagine your audience visiting your web site every time they use their computers; increasing the occurrence of repeat visits is no longer a problem.